There are hundreds of additives approved for use in food in Australia. About 50 of these additives are known to cause health, behaviour and learning problems, as recommended by the Food Intolerance Network, the RPAH Allergy Unit and us at Additive Education.
COLOURS
Artificial – 102 tartrazine; 104 quinoline yellow; 107 yellow 2G; 110 sunset yellow; 122 azorubine, carmoisine; 123 amaranth; 124 ponceau, brilliant scarlet; 127 erythrosine; 128 red 2G; 129 allura red; 132 indigotine, indigo carmine; 133 brilliant blue; 142 green S, food green, acid brilliant green; 151 brilliant black; 155 brown, chocolate brown
Natural – 160b annatto, bixin, norbixin
PRESERVATIVES
200-203 sorbic acid, potassium & calcium sorbates
210-213 benzoic acid, sodium, potassium & calcium benzoates
220-228 sulphur dioxide, all sulphites, bisulphites, metabisulphites
249-252 all nitrates & nitrites
280-283 propionic acid, sodium, potassium & calcium propionates
SYNTHETIC ANTIOXIDANTS
310-312 all gallates
319-321 TBHQ, BHA butylated hydroxyanisole, BHT butylated hydroxytoluene
FLAVOUR ENHANCERS
620-625 glutamic acid and all glutamates, includes MSG monosodium glutamate 621
627 disodium guanylate
631 disodium inosinate
635 ribonucleotides
Yeast extract, HVP HPP hydrolysed vegetable or plant protein
FLAVOURS
Unregulated – no numbers
and I include…ARTIFICIAL SWEETENERS
951 aspartame (Nutrasweet, Equal)
(Click here to download Additives to Avoid PDF)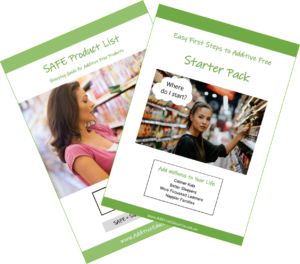 Helpful Guides to Start Living Additive Free
SAFE Product List and Starter Pack for Avoiding Nasty Food Additives
Start living additive free now with these handy booklets – avoid nasty additives to improve behaviour, health and learning. Calmer kids, better sleepers, more focussed learners and happier families.